DUN LAOGHAIRE RATHDOWN COUNTY COUNCIL KEEN TO EMBRACE INTEGRATION
24 February 2012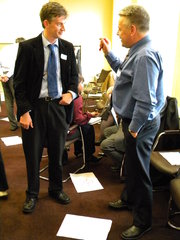 Senior management and elected County Councillors from Dun Laoghaire Rathdown County Council showed their commitment to integration in the county on Wed 22 Feb 2012.
Management alongside County Councillors worked with ethnic minority leaders to look at mechanisms for effective representation and participation of new communities in local authority policy and planning. The tink tank also provided an excellent networking opportunity for senior management & elected representatives and new communities' leaders in the county to meet and discuss how to improve policy and practice.
The purpose of the session was definitley not to engage in "business as usual" but to create a space for participants to step back and reflect on the two themes of integration and participation. See images from Wed 22 Feb.