Romanian Community of Ireland has the pleasure to invite you to celebrate International Women's Day on Friday, 9th of March 2012
9 March 2012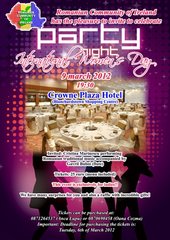 Romanian Community of Ireland has the pleasure to invite women to celebrate International Women's Day on Friday, 9th of March 2012. The event will take place in Crowne Plaza Hotel in Blanchardstown from 7.30 pm.
You will get the chance to listen to live Romanian Traditional Singer, Cristina Marinescu, accompanied by Gavril Buboi (flute). The event will have other nice surprises for women (karaoke, dance competitions, raffle with great gifts). The tickets are €25 (menu included).
This event is exclusively for the ladies!!!
If you are interested in taking part please book your place by phone at 0871264537 (Anca Lupu).