Latvian choir "eLVē" marks the European Year for Active Ageing & Solidarity Between Generations 2012
2 June 2012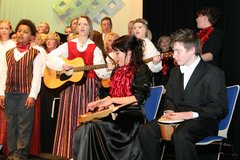 Latvian choir "eLVē" marks the European Year for Active Ageing & Solidarity Between Generations 2012 by singing at New Park Care Centre, Dublin on June 2, 3.00 p.m.
Following the call from President Michael D Higgins to give older people their due recognition and respect, Latvian choir ''eLVē '' from the greater Dublin area is launching an initiative of performing in care centers for the elderly to recognize the positive contributions that senior citizens have made to Irish society.
The choir will sing Latvian folk and contemporary music as well as the Irish national anthem in Irish.
The Latvian Ambassador to Ireland, Mr Pēteris Elferts has accepted the invitation to join the event.

Click here for further information .
http://www.flickr.com/photos/newcommunities/sets/72157629848689924/