Dublin City Integration Forum Celebrates
21 November 2012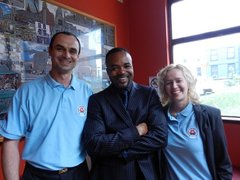 Ethnic minority communities and support groups across Dublin are preparing for the official Forum launch on Monday 19 November.
Dublin's Lord Mayor Cllr Naoise Ó Muirí will perform the official launch. Other guests include Councillor Tom Joyce, Mayor of Dún Laoghaire-Rathdown County Council. See our guests
eLVē, Lativan Society in Ireland choir will perform a very special rendition of the Irish national anthem, Amhrán na bhFiann.
The Bini Community of Ireland will perform dance from the Benin people of midwestern Nigeria. A wide array of foods will be available provided by member groups representing Asia, the Middle East and North Africa, Europe, South America and Africa.
Admission Free. RSVP by Friday 16 November.
Date: Monday 19 November 2012 4 - 6 pm.
Venue: Hugh Lane Gallery, 22 Parnell Square, Dublin 1
For More Information Contact: Karen Reid, New Communities Partnership - karen@newcommunities.ie or 01 671 3639