Discover Who's Who in Dublin for 2013?
7 December 2012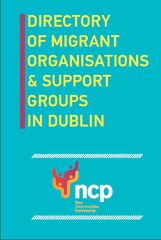 'Directory of Migrant Organisations & Support Groups' a new A to Z directory with links to over one hundred migrant organisations and support groups in Dublin takes place on 7 December 2012.
'To develop a comprehensive directory that captures migrant organisations and supports groups at any point in time can be a really
challenging task. This is due to the transitory nature of members and the voluntary nature of migrant groups'. explains Reginald Inya, New Communities Partnership Dublin Co-ordinator.
The directory is an excellent reference for media, public servants, research students and service providers.
Copies of the directory will be available on Friday 7 December 2012.
Location: Irish Aid Centre, O Connell St, Dublin 1
To Register: contact reginald@newcommunities.ie
When: Friday 7 November 2012 @ 2 pm