Association of Ogun States Indigenes Youth Inspiration Day 2013
25 May 2013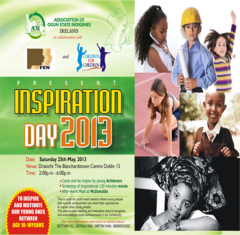 Association of Ogun States Indigenes host Youth Inspiration Day 2013. This is a youth for youth event  where young people with specific achievements can share their experiences to inspire other young people. This event aims to recognize and acknowledge youth achievements in our community.
Date: Saturday 25th May, 2013
Location: Draíocht The Blanchardstown Centre, Dublin 15
Time: 2:00p.m. - 6:00p.m.
For Further Information and Tickets: Please contact 0877496162, 0870541896, 0867841494, or 0899634302.