Dublin African Film Festival 2013
11 October 2013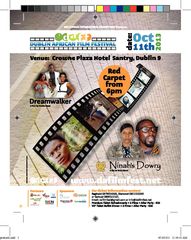 Two great films will be premiered at the 2013 Dublin African Film Festival.  
Dreamwalker mirrors the lives of three cosmopolitan women whose minds are incarcerated by the man they see in their dreams called 'The Spirit Husband'. 
Ninah's Dowry features 20 year old Ninah, a veteran wife of 7 years and a mother of 3 who is stuck in an abusive relationship with no hope of change. When news of her gravely ill father reaches her, she disobeys her husband's orders not to go so she could speak her peace to the man who put her in bondage. 
Location: Crown Plaza Hotel, Santry, Dublin 9
Date: 11 October 2013
For Bookings: Dublin African Film Festival Tel: 089 4204044