'From Dunbura to Guitar': The Diaspor of Afghan Musicians
21 March 2014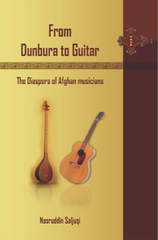 Nasruddin Saljuqi is getting set to launch his latest book , From Dunbura to Guitar, The Daspora of the Afghan Musicians.  
The book promotes integration via music nationally and internationally, developing the skills of Afghan immigrant musicians who were displaced during the war to western counties.  
The guest speaker is Professor John Baily, Reader at Goldmsith University London with his wife Veronica Dublday who has performed concerts in Europe , US, Australia and Afghanistan. They will perform some Afghan tradtional music. Dr. Muhammad Umar,  an Islamic theologian will speak about music and Islam. 
Date: Fri. 21st March 2014, 5:00 pm
Location: Irish Writers Centre, 19 Parnell Square, Dublin 1
For Further Information Contact: E-mail: afgcommunity@hotmail.com or Tel: 0857118340
Venue
Irish Writers Centre, 19 Parnell Square, Dublin 1