NCP National Conference
30 March 2017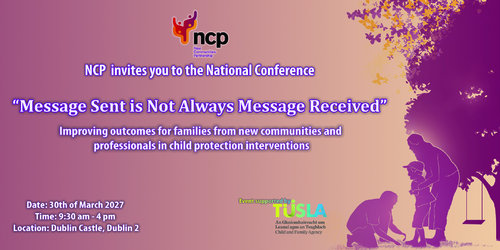 "Message Sent is Not Always Message Received" 
Improving outcomes for families from new communities and professionals in child protection interventions
New Communities Partnership (NCP) supported by TUSLA Child and Family Agency is organizing a National Conference on the30th March 2017 in Dublin Castle in order to identify areas of challenges and opportunities in working with migrant families experiencing child protection interventions.
This conference will highlight the experiences of migrant families navigating the child protection system. The work of NCP through the Migrant Family Support Service will be presented in the context of positive outcomes, the impact of cultural understanding in providing services for new communities living in Ireland and the importance of positive collaborations with state agencies in providing holistic services to migrant families.
Interactive and dynamic workshops will be facilitated in the afternoon. The invitees will be members from new communities, TUSLA teams, social, educational and legal representatives, various State Departments and Local Authorities, NGOs and other members of the public.
A light lunch will be provided.
Full agenda to follow in early February.
For further information about the conference, please contact Angelisa Zerpa at  angelisa@newcommunities.ie or by phone at 018727842.
Venue
Dublin Castle
Location Map