Calling All Migrant Job Seekers in Limerick
7 November 2018 - 29 November 2018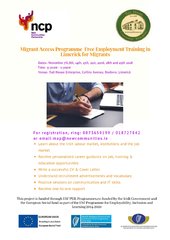 Are you a migrant in Limerick who is seeking employment or who wants to improve their employment skills? Then register to join our FREE four-week training session this November.
This November, New Communities Partnership will be bringing our MAP Employment Training to you in Limerick. The Migrant Access Programme (MAP) delivers free employment training to migrants who are looking for employment, career direction or progression and opportunities to get into the labour market.
If you're unemployed, tired of searching for work, whether you've given up hope or are optimistic and still searching, or just want to figure out how to progress in your career, then register to attend on these dates: November 7th, 8th, 14th, 15th, 21st, 22nd, 28th and 29th, 2018. Training will start each day at 9.30 and continue until 14.30.
During the sessions, you'll receive training on the Irish labour market; receive personalised career guidance on job, training & education opportunities; learn to write a successful CV & cover letter; understand recruitment advertisements and vocabulary; take part in practice sessions on communication and IT skills; and receive one-to-one support.
Tea/coffee with scones will be provided, as will subsidised transport each day.
Please Note:
Places are strictly limited and attendance is mandatory on all the dates.
To register, please ring Doris on (087) 365 9199 or (01)8727842. Alternatively, you can email map@newcommunities.ie
Venue
Tait House Community Enterprise, Limerick
Location Map