International Women's Day: Join us in Dublin for a morning of relaxation and rejuvenation
8 March 2019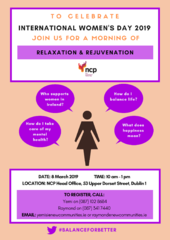 To celebrate International Women's Day 2019, New Communities Partnership will be hosting not one but two events to honour migrant women! These special events will be taking place in Dublin and in Cork. We hope that you can make it.
At our Dublin offices, we will be having a morning of relaxation and rejuvenation. It will take place from 10 a.m. to 1 p.m. We have some special treats planned for those who attend. This will be a chance to celebrate women of all ethnicities, backgrounds, and religions in a welcoming, nurturing space. You will also be encouraged and supported to take some time for yourself, to relax and de-stress among friends.
Places are free but limited, so booking is essential. 
To get more details, or to book a place, please contact Yemi at yemisi@newcommunities.ie or (087) 102 8684, or Raymond at raymond@newcommunities.ie or (087) 341 7440.
For details of our Cork event, please click here. 
Venue
New Communities Partnership, 53 Upper Dorset Street, Dublin 1
Location Map