Free Job Training for Migrants in Cork!
2 May 2019 - 9 May 2019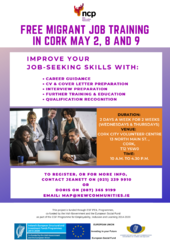 NCP is proud to present FREE employment training for migrants in Cork. This course details everything you need to know about the employment market in Ireland. Come to:
Learn and understand how to write CVs and cover letters
how to access further education and training
how to get your qualification recognised in Ireland
interview skills, and
how to apply for the jobs you really want.

This training runs over four intensive sessions taking place in Cork Volunteer Centre. You won't pay a thing to attend; we'll even provide tea, coffee, snacks, and money towards travel.

Registration is essential so please book now.

This project is funded through ESF PEIL Programmes, co-funded by the Irish Government and the European Social Fund, as part of the ESF Programme for Employability, Inclusion and Learning 2014-2020.

#euinmyregion #employmenttraining #corkcity #migrants
Venue
Cork City Volunteer Centre 13 North Main St. Cork, T12 Y6W0
Location Map