Employment Training in Tralee, Co. Kerry - May & June 2019
20 May 2019
New Communities Partnership's employment training is coming to Tralee, Co. Kerry at the end of this month! (It's completely free to attend, too.)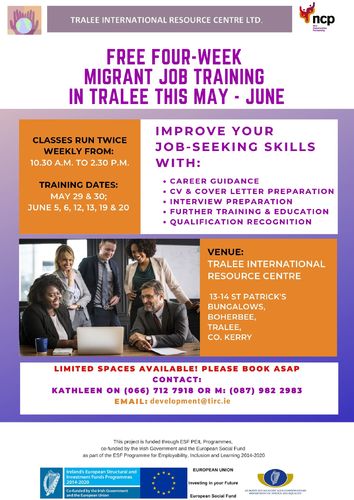 (Click on image to view larger size)
 If you're a migrant living in, or close to, Tralee, let us know that you want to attend our free employment training course. 
This course details everything you need to know about the employment market in Ireland. At this training, you'll
Learn and understand how to write CVs and cover letters
how to access further education and training
how to get your qualification recognised in Ireland
interview skills, and
how to apply for the jobs you really want.
This training runs twice a week (on Wednesdays and Thursdays) from 10.30 a.m. to 2.30 p.m. Classes begin on May 29th and run until June 20th and take place in Tralee International Resource Centre (13-14 St. Patrick's Bungalows, Boherbee, Tralee, Co. Kerry). Spaces are strictly limited so please book now. To register, phone Kathleen on (066) 712 7918 or (087) 982 2983. Alternatively, you can email development@tirc.ie.
Remember, this training is completely FREE! (This project is funded through ESF PEIL Programmes, co-funded by the Irish Government and the European Social Fund, as part of the ESF Programme for Employability, Inclusion and Learning 2014-2020.) You won't pay a thing to attend; we'll even provide tea, coffee, snacks, and money towards travel.
You have a lot to gain by signing up. Don't delay. Contact Kathleen at development@tirc.ie now to book your place.
#euinmyregion
Location Map