Working in Ireland: What You Need to Know - Galway City, June 28, 2019
28 June 2019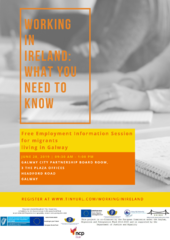 (Click image to see larger resolution)
Are you looking for work in Ireland or would you like to get a better job? Then join us on June 28, 2019, from 10 a.m. to 1.30 p.m., for an informational session on what it means to be employed in Ireland.
This free information session – which is geared at migrants living in Ireland – will tell you everything you need to know about employment in Ireland.
Topics covered will include:
Employment rights and entitlements

You'll get answers to questions such as: What is a PPSN (Personal Public Service Number) and why do I need one? How do I register to pay tax? What hours can I work with my visa?


Qualification recognition

Find out how to have your degrees, certifications and other qualifications recognised in Ireland
 
Training

Discover what further training and educational opportunities are available and open to you
 
Volunteering opportunities

Learn what volunteering means in Ireland, how you can do it, and why it can be valuable career experience
 
Employment supports and services available

Get information on the programmes, supports and services that can help you get into better or more consistent employment


CVs and interview skills

Understand what employers look for in a CV or from candidates they are interviewing. (For example, did you know that you don't need to put a photo or date of birth on your CV in Ireland?)
Everything you want to know about working in Ireland will be covered in this informational session.
This event is being organised by New Communities Partnership – Ireland's largest migrant-led network – and is hosted by Galway City Partnership.
Register today by going to: https://www.eventbrite.ie/e/working-in-ireland-what-you-need-to-know-tickets-63337810095! (Please share this link with anyone else who you think might benefit, too.) We look forward to seeing you there.
* * *
This free information session is being organised through New Communities Partnership (NCP)'s Migrant Access Programme, a service established by NCP in 2017 to support migrants to increase their employment opportunities in Ireland. If you are tweeting about this, please use the hashtag #euinmyregion
Need any additional information? Contact Doris Abuchi-Ogbonda from New Communities Partnership on (087) 365 9199/email map@newcommunities.ie to enquire about further training opportunities.
Contact Obert Makaza from Galway City Partnership on (086) 047 0120/email obert@gcp.ie for location or other information.
Location Map