Migrant Information Day - 21st Nov 2017
24 November 2017
---
New Communities Partnership (NCP) and UN Migration Agency (IOM) Ireland organised a Migrant Information Day in the Irish Human Rights and Equality Commission building.
This event provided the public with relevant information about services available to migrants and showcased the amazing work that is happening throughout the country. Over 30 organisations from various areas were present on the day showcasing relevant information about five main areas:
Employment - support in accessing labour market, work activation, CV writing;
Health – accessing health services, practical advice in obtaining a medical card, mental health awareness, etc.;
Racism and Discrimination - how to report racial incidents, how to fight racism;
Education - English classes, courses and supports in learning English;
Integration - socio-economic and cultural opportunities for new communities, rights and entitlements in Ireland.
We were delighted to welcome over 250 participants with the special attendance of Mr. David Stanton, Minister of State for Equality, Immigration and Integration at Department of Justice and Ms. Emily Logan, Chief Commissioner of Irish Human Rights and Equality Commission.
Mr. David Stanton TD, Minister for Equality, Immigration and Integration stated that: "This Migrant Information Day gives our new communities a great opportunity to find useful advice on services and supports available to them, it also reflects the cross-organisational enthusiasm and collaboration in Ireland, on working towards the smooth integration of our new communities, in an increasingly diverse Ireland. I hope that these various supports will make a real difference in the lives of some of our most vulnerable migrants, and well as supporting all our communities to achieve true integration."
Ms. Emily Logan, Chief Commissioner at Irish Human Rights and Equality Commission, mentioned the following: "The Irish Human Rights and Equality Commission has, set out in our founding legislation, a function to encourage the development of intercultural understanding in the State. For migrants to Ireland, that intercultural understanding is built on a two-way flow of information, with established communities learning about new arrivals, but also of migrants themselves having the necessary opportunities to learn about the community supports available to smooth their arrival. This migrant information day, organised by the New Communities Partnership and the IOM, is creating vital connections between migrants and the advice they need, on everything from employment, to finding language supports, to accessing healthcare and education. The Commission is pleased to be able to host this event as it acknowledges that a modern country like Ireland is host to a diversity of cultures; and that interaction, understanding and participation matters for inclusion."
Ms. Anca Lupu, NCP CEO, expressed her gratitude to all the organisations present and said "We believe that this is a unique event, the second edition of its kind and we hope that it will be a strong step in a cross-organisational collaboration. Thanks to all of you here today for your solidarity and interest in our efforts to make Ireland a super intercultural country who welcomes migrants"
It was a great atmosphere and the room buzzed with energy. Thanks to all who came and enjoyed the day with us.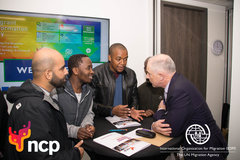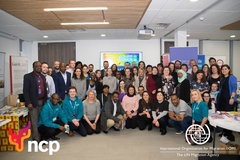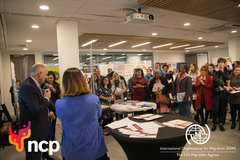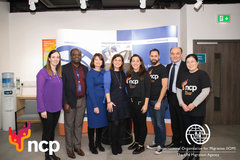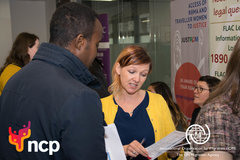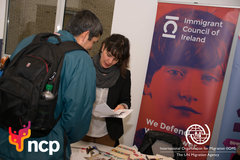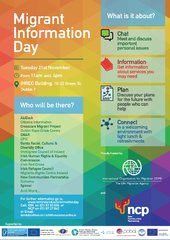 Photo credits: Gustavo Leal Photography.
Organisations present: Workplace Relations Commission, Garda Ombudsman, CAIRDE, An Cosán, SIPTU, HSE Anti-Trafficking Team and Women`s Health Service, Free Legal Aid Centre, HSE Anti-Trafficking Team and Women's Health Service, Free Legal Aid Centre, Irish Family Planning Association, Immigrant Council of Ireland, Business in the Community Ireland - EPIC Programme, Irish Red Cross, Spirasi, Migrant Rights Centre Ireland, Dublin Rape Crisis Centre, Crosscare Migrant Project, Tusla Parenting 24/7 and Fostering Teams, Irish Human Rigths and Equality Commission, Dublin City Volunteer Centre, Threshold, Quality and Qualifications Ireland, City of Dublin Education and Training Board, Irish Refugee Council, ENAR Ireland, UN High Commissioner for Refugees, AkiDwA, Wezesha, Ruhama, Citizen Information Centre - O'Connell Street, Garda Racial & Intercultural Unit, IOM Ireland and New Communities Partnership.