NCP Health Awareness Week
12 October 2010
---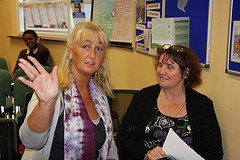 Forty Seven Volunteers, Two Hundred & Fifty Attendees, Five Counties ...NCP Health Awareness Roadshow has come to a close.
Thanks to all volunteers from the following organisations who travelled with NCP around the country to Family Resource Centres, Asylum Seeker Hostels, Faith Based Communities, Partnerships & Community Centres
- ARC Cancer Support & Rape Crisis Centre (above) also Acquired Brain Injury, Age Action Ireland, ARC Cancer, ASPIRE Ireland, Bodywhys, Citizens Information Centre, Console, Community Awareness of Drugs,
Dublin Aids Alliance, Dundalk Women's Refuge, Headstrong, HSE Dental Services, Inclusion Ireland, Longford Women's Link, Longford Alzeimher's Society,
Maher Hospital, Mental Health Ireland, Rape Crisis Centre,The Samaritans & Women's Mothers.
View the NCP Health Awareness Roadshow!