Meet the Migrant Candidates: Interview with Sandra Ruiz, Local Election Candidate for Tallaght Central, Co. Dublin
13 May 2019
---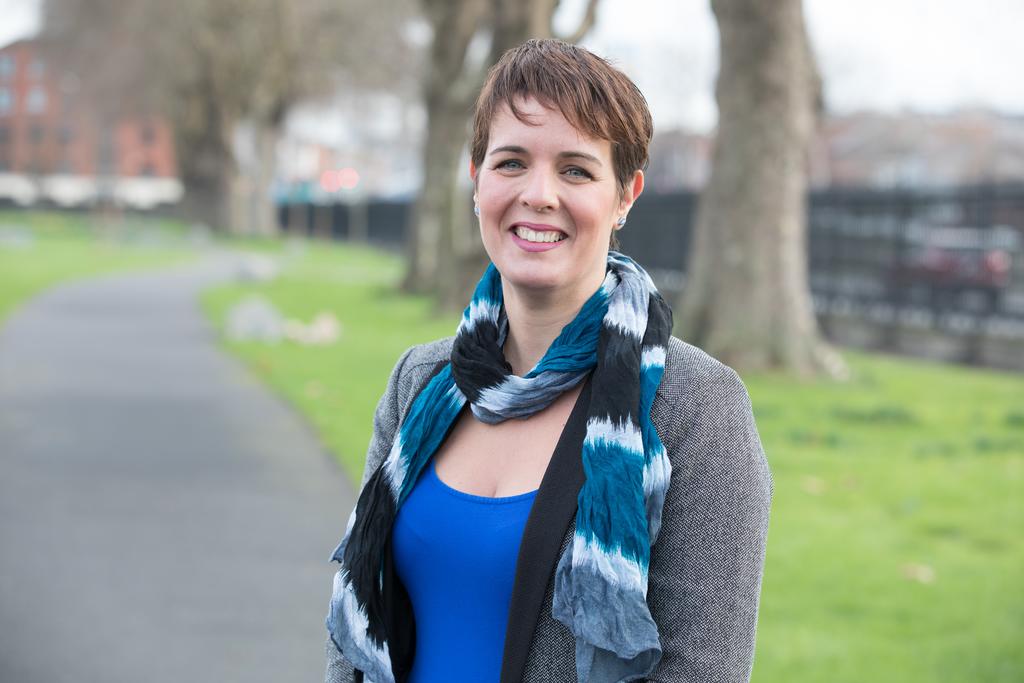 Did you know that an estimated 2,000 people will be running for local election this May 24th? Around 949 seats are available. That means your vote is important. The candidates who are running will be seeking your vote to ensure they can become a local councillor – responsible and tasked with the effective running of your town or area. Make sure you get out and vote! (Details of how you can check the register are at the end of this article.)
Among those many people running for election, there are many first-time migrant candidates seeking your vote, including Sandra Ruiz, a Social Democrats candidate running for election in Tallaght Central.
As part of our short "Meet the Migrant Candidates" series, we spoke to Ms. Ruiz about her background, her policies and why migrant representation in politics is so important.
New Communities Partnership: Can you tell people a little about yourself?
Sandra Ruiz: My name is Sandra Ruiz. I'm a Social Democrats candidate for the upcoming local elections in Tallaght Central. Originally from Spain, I have lived in Ireland for the past 10 years. Now I live together with my family in Tallaght.
In Spain, I completed two degrees, one in Primary School Teaching and the other in Education Psychology and Pedagogy. I am also a qualified Spanish Sign Language Interpreter.
Initially, I moved to Ireland to improve my English and study for a Masters in Gender and Equality studies. I have since completed a Diploma in Addiction Studies in Dublin Business School, a Masters in "Gender and Equality studies" and a professional diploma (level 9) in Innovation, Creativity and Leadership in UCD.
I am a social justice activist who has worked on diversity and equality projects for over 15 years. These include working alongside the deaf community as a sign language interpreter, teaching people in the Roma Gypsy community basic reading and writing skills, being part of the board of Clondalkin Traveller Community, working with victims of domestic violence and victim of human trafficking, as both a crèche teacher and primary school Spanish teacher. Besides, I am the co-founder and board member of a migrant organisation, Migrant Women United. Most recently, I have worked in a social enterprise with female refugees and asylum seekers. Throughout my career, empowering people through education and employment has been my priority.
NCP:  What made you decide to run for local election in your area?
SR: Last year I got involved in the campaign "Vote, run and register" with the Immigrant Council of Ireland, to increase the awareness within the migrant communities of their rights to vote and run in local elections. Since then, I have become more interested in Irish politics. As a result of attending a few events, I noticed I was not really properly represented, and that my voice was not included in the conversation; this led me to a feeling of responsibility and a will to make a difference in my community, bringing a new and fresh voice that could represent the diversity of the Tallaght community.
NCP: Were you involved with politics before you came to Ireland? If not, what made you decide to join the political party that you did?
I have never been affiliated to a party before, and I don't come from a political family. I have always felt that politics played a vital role in society in the securing and implementing of democracy in any part of the world; however, since I arrived in Ireland I have never felt connected with the Irish politics, especially at local level, since I didn't know I could participate.
When I decided that it was the time to stop complaining and to do something about the gaps and issues that Ireland is facing, I found Social Democrats, a new and diverse party, whose current values and vision are aligned with mine. I really love the diversity reflected in the candidates: people with different disabilities, from different social economic backgrounds, people with different personal and professional expertise, and people from different nationalities and ethnicities like me.
NCP: What are some of the policies/stances that you will be running on in the election?
SR: If I get elected as a councillor, the issues and matters I will stand for are those that matter to people living in my community. I will combine my expertise and skills with the community, and together we will work to find the best approaches to address the different issues. I will never underestimate the skills and talent of people living in the community. I believe that if we work together, we can find more innovative and better solutions.
I have a genuine passion for education, diversity and equality. I believe that people's voices matter and education is a great tool to improve the system. I also maintain that through education, we can improve issues pertaining to climate change or environmental issues, like the illegal dumping that we are suffering in different areas and parks around Tallaght, like Sean Walsh Park or Tymon Parks.
We also need to provide more security for pedestrians and cyclists, creating more zebra crossings and cycling paths around Tallaght, like in the Old Bawn estate. Likewise, the speed in certain areas must be reduced to avoid tragic accidents.
When I previously referred to diversity, I like to think about the wider spectrum of diversity, people from different socio-economic backgrounds, people with amazing abilities (disabilities), people from different nationalities, beliefs and life experiences, etc. This diversity brings growth to the economy and helps to find more creative solutions to the current problems. It also helps the growth of the economy of Ireland by developing a society and country with different approaches. However, this diversity is reflected in the community but not in all our spaces like media (radio, TV), elite institutions or roles, public jobs, government, academia, etc. As a solution I am calling for a "diversity quota" that will empower and ensure that more diversity will be reflected at all levels in the Irish society.
NCP: How important do you think it is for migrants to be represented in politics, both at a local and national level?
SR: It is extremely important that the people feel represented and connected with the Irish government because these people are representing the people living in Ireland. We need to make sure that we send the right message to the new Irish generation so that it looks and sounds very mixed and diverse. We need to make sure that our communities are included in the conversation and decision making, and together we can develop the responsibility and commitment to contribute to the future of Ireland.
Representation matters, and the work that so many migrant candidates – colleagues across different parties – are doing, it is admirable. I wish all the best of luck!
NCP: Why should somebody vote for you?
SR: When I knock on doors, and I listen to people, I can hear over and over the feeling of disappointment and frustration relating to the current way of doing politics, and politicians themselves.
If I get elected I will work in a new direction; I will be using a more community-based approach, willing to work directly with the people to find the best solutions. This approach also shows a respect and care for the people living in the community, as my agenda is going to be based on their priorities. SDCC (South Dublin County Council) needs new people with new and fresh ideas, new councillors who are willing to step down from their thrones and to work with people from different backgrounds and abilities.
NCP: If there is anything else that you would like to add, please do!
SR: Some of the existing policies related to local elections are not inclusive and fair, such as the restriction to receive international donations. Campaigns are very expensive, and a lot of migrant people's families and friends are living abroad. It means migrant candidates are more restricted in raising campaign funds, which is extra hard as they also often have more limited possibilities for raising money due to lack of access to the more extensive networks non-migrants have. These reduced donations put the migrant candidate in a situation of disadvantage compared to local candidates. I think this is something it has to be reviewed, at least for the next local elections.
[NOTE FROM NCP:] If you're not sure if you are registered to vote or if you haven't received your voting card in the post, head to www.checktheregister.ie to make sure that you're registered.
Not sure who your local authority is? The Local Government Management Agency has an interactive map, which you can click here to access, that will give you details of yours.
Please note: By posting this or any future interview, NCP is not endorsing any single candidate or political party in Ireland. This post is intended to encourage civic participation by migrants in Ireland and to highlight the representation of migrants in the political landscape.