Responding to Racism Guide Launched by ENAR today
04 April 2019
---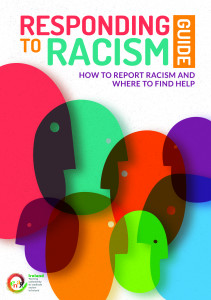 This morning, April 4th 2019, ENAR Ireland launched its thorough new resource, the "Responding to Racism Guide". The guide, which has been several years in the making and which was compiled by ENAR Ireland's Communications and Network Development Officer, Aga Wiesyk, was launched officially by Minister of State for Equality, Immigration and Integration David Stanton at the Communications Workers' Union in Drumcondra, Dublin.
The guide, which is over 200 pages long, has sections that cover how to respond to racism in all areas of Irish society: in the workplace, housing, education, health, online and in the media, and more. Resources -- including how and where to report incidents of racism as well as how to support victims of racism -- are also included. 
New Communities Partnership recommends that everyone read and share this report. Hard copies are available but you can access the full guide online at: http://enarireland.org/reporting-racism-in-ireland/
Present at the launch were speakers from across Irish society, including Shane O'Curry (Director of ENAR Ireland), IHREC Chief Commissioner Emily Logan and Superintendent Kevin Daly of the Garda National Community Oriented Policing Bureau. Minister Stanton and guide author Aga Wiesyk also spoke. Importantly, voices from communities were also included to close the launch. Dr Ebun Joseph, Researcher and the Chairperson of the African Scholars Association, Oein DeBhairduin of the LGBT Traveller and Roma Alliance, Niera Belacy of the Amal Women's Association, and Gislene Oliveira of Standing Together were the four community activists who spoke. Their contributions especially highlighted how important it is for government and society to keep advancing the work done to tackle racism in society. 
Minister of State for Equality, Immigration and Integration David Stanton agreed.
Speaking immediately before the launch, Minister Stanton said, "This guide comes at a very important time in Ireland, when we have become more culturally and ethnically diverse and enriched. ENAR Ireland is to be commended for the positive contribution it has made to promoting inclusion and combating racism, through initiatives such as this. I hope that this guide will provide vital information for people experiencing a terrible ordeal."
You can download a copy here: http://enarireland.org/wp-content/uploads/2019/03/Responding-to-racism-guide-FINAL.pdf
For more information about ENAR Ireland, of which NCP is a member, go to www.enarireland.org.