Child Protection and Family Support Training
Working with Diverse Families Training Programme
The Migrant Family Support Service delivers training to frontline service providers, on how to improve the cultural competence of their service delivery in child protection.
The increasing diversity of communities across Ireland, necessitates service organizations to design more effective mechanisms to assist individuals and families from different class, racial and ethnic backgrounds.
Through our training programme, Working with Diverse Families, NCP provides training for public sector staff such as doctors, nurses, social workers, and teachers who work with families from different cultural backgrounds who are experiencing child protection interventions.
We will provide a vision for how managers can help agencies develop culturally relevant, community-based responses to ethnic minority families in crisis, and present models for moving in this direction.
Our trainers are knowledgeable about a wide range of culturally appropriate services for different client populations.
Click to request further information of upcoming course dates, or telephone Rima Kawash on (01) 872 7842.
Child Protection Awareness Training Program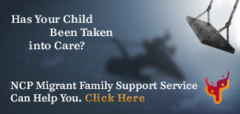 The Migrant Family Support Service (MFSS) also offers a one-day training programme for community leaders, pastors, imams, Sunday school teachers, Quran teachers and any other groups who may wish to avail.
The Child Protection Awareness Training Program is free of charge and is delivered in an interactive manner.
The aim of the training is to raise awareness of Children First legislation and the communities' duty of safeguarding children.
For more information or to book a training session, please email familysupport@newcommunities.ie or phone (01) 872 7842.
Page Updated 4 March 2019