World Refugee Day 2023
19 June 2023
---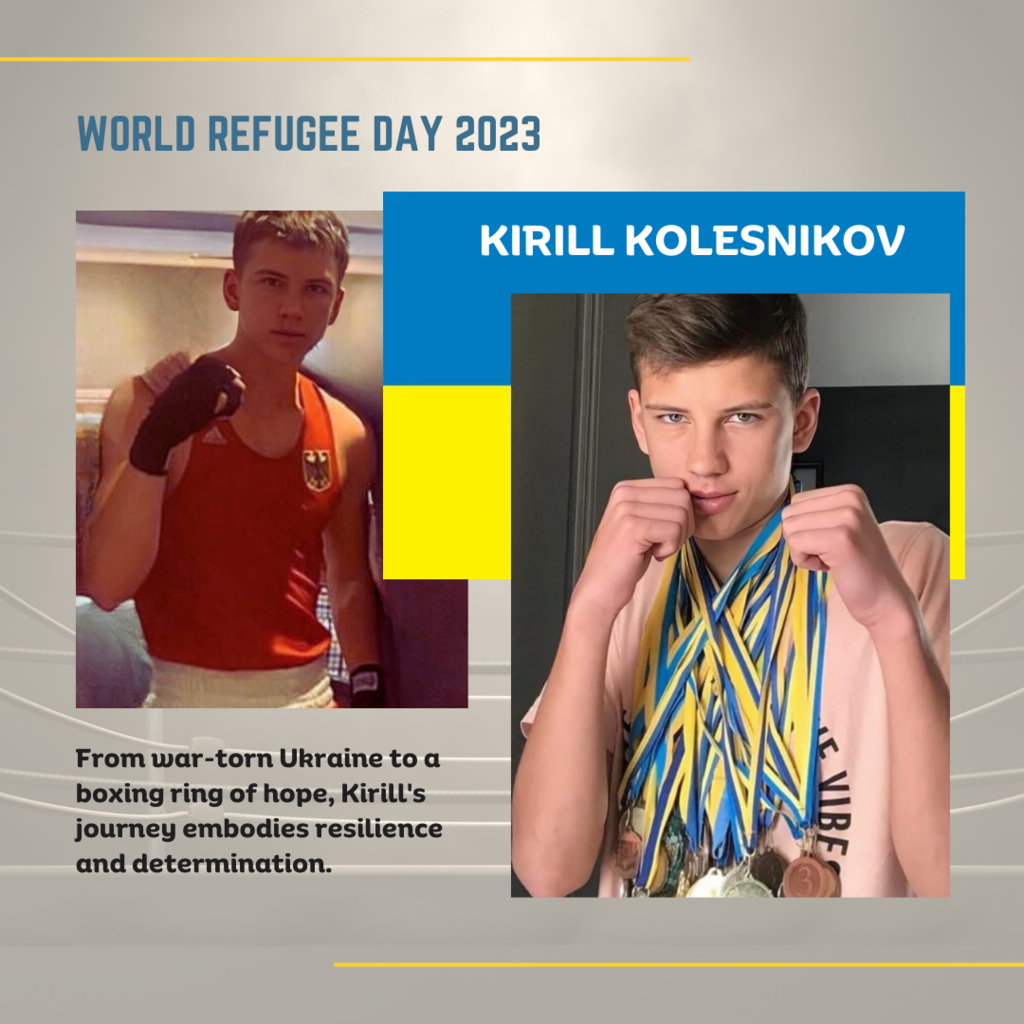 NCP stands in awe of the immeasurable bravery, resilience, and strength displayed by millions of displaced individuals worldwide. Created by the United Nations, World Refugee Day serves as a global celebration and tribute to refugees from every corner of the globe. It is an occasion that urges us to not only acknowledge the challenges they face but also to recognise the extraordinary contributions they make to our society.
To celebrate the first-ever Refugee Week in Ireland and World Refugee Day on the 20 June around the world, we will be sharing stories of refugees, we pay homage to their journeys and the vibrant diversity and positive difference they infuse into our world.
Kirill's Story
Kirill Kolesnikov, a sixteen-year-old from Severodonetsk, the Luhansk region of Ukraine, found his passion for boxing at the age of four. Growing up in Ukraine, Kirill achieved remarkable success in the sport, securing championships in various regions, including Luhansk, Donetsk, and Kharkiv. By the age of twelve, he had already claimed victory at the All-Ukraine championship, and at fourteen, he triumphed in the Olympic Hope 2020 competition. Kirill's incredible dedication and skill earned him an impressive collection of 46 regional and national medals and certificates before he had to leave his country.
In February 2022, as the Russian invasion of Ukraine began, Severodonetsk became engulfed in a full-scale war. Despite the dire circumstances, Kirill and his family were unable to immediately flee due to heavy shelling and the absence of a humanitarian corridor. It was not until the end of March 2022, after enduring weeks in basements without basic necessities, that Kirill's mother, Diana, decided to take the risk and leave Ukraine to ensure the safety of her children.
Upon their arrival in Ireland, Diana and her two sons, Kirill and his four-year-old brother, were provided temporary shelter in a former restaurant hall. However, the conditions were far from suitable for the children's well-being. In search of better circumstances, Kirill's mother reached out to Irish activist Colm Smullen for assistance. Through the funding scheme "Offer a Home Offer Hope for Ukraine", Smullen connected the family with a kind-hearted Irish woman who offered them a temporary home in Keshcarrigan. Despite the decent living conditions, the lack of nearby schools, training clubs, and shops posed challenges for the family.
Determined to provide a better future for her children, Kirill's mother turned to social media, seeking an alternative home that would be closer to a school and, ideally, a boxing club for Kirill. It was at this crucial stage that M. Ryan from NCP stepped in and suggested reaching out to Mr. Zaur Antia,the Head Boxing Coach at the Irish Athletic Boxing Association. Mr. Antia, renowned for his work with Ireland's Olympic Boxing team and his contribution to numerous Olympic medals, could potentially assist in finding a club and a coach for Kirill.
With the support of NCP, Mr. Antia, and accomplished boxing coach Jason Clancy from Manorhamilton, Kirill's family relocated to Manorhamilton, where Kirill began training under Mr. Clancy's supervision. Recently, Kirill had the opportunity to participate in the Erne Elite Fight Night competition in Northern Ireland, accompanied by other members of the club. While Kirill continues his distance education in Ukraine to complete his school graduation, he plans to enroll in a further education college in Sligo, and is fully committed to pursuing his dream of becoming an Olympic champion.
In addition, Kirill's younger brother will start attending a local school in September, marking a new chapter in their journey towards a brighter future in Ireland. Kirill's determination, resilience, and unwavering pursuit of excellence make him a young athlete to watch as he strives to make his mark on the world stage of boxing.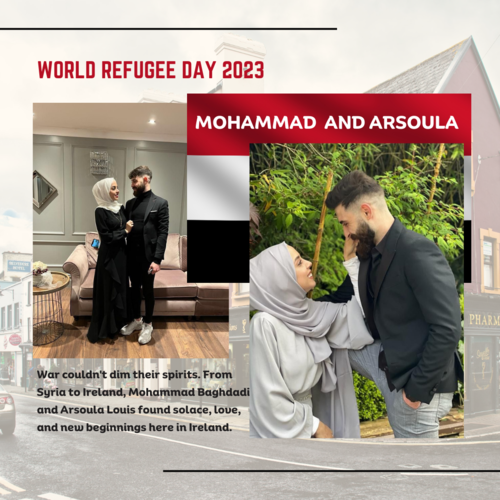 Mohammad and Arsoula Story:
Mohammad Baghdadi, a resilient young man, embarked on a journey of hope and transformation following the devastating war on Syrian citizens in 2011. As a temporary refuge, he, along with his family, sought solace in Lebanon, where they would spend the next five years. However, fate had a different plan in store for Mohammad and his loved ones.
In 2019, through the Irish Refugee Protection Programme, the Baghdadi family was selected by the Irish government for resettlement. December of the same year marked the beginning of a new chapter in their lives as they arrived in Ballaghadreen, a small town in Ireland. While still grappling with the impact of war and uncertainty, Mohammad found solace in the warm embrace and the kind hearts of the Irish people. He quickly discovered that Ireland was a beautiful country filled with caring and helpful individuals who were eager to support him. Motivated to forge a bright future, Mohammad embarked on short English classes to enhance his language skills. However, his aspirations of establishing a successful career as a sole trader drove him to take up various labor jobs, including farm work.
Over time, Mohammad's dedication and hard work paid off. He landed a job in a grocery store, gradually rising through the ranks to become a store manager at Anta Foods. At the age of 26, he now stands proud of his accomplishments but remains steadfast in his pursuit of further progress and establishing his own trade in the future. In addition, driven by his desire to give back to his community and support fellow Syrians, Mohammad actively engaged in family support activities within the Syrian community. His compassion and willingness to lend a helping hand made a significant impact on those around him.
The story doesn't end there, as Mohammad's personal life took a joyous turn this year. He tied the knot with Arsoula Louis, a remarkable young woman who, too, came to Ireland as a Programme Refugee in 2017. Arsoula, aged 23, exhibited a strong determination to succeed. After completing her Leaving Certificate, she pursued studies in childcare and beauty therapy, gaining valuable experience by working in a crèche and as a spa therapist.
Together, Mohammad and Arsoula form a couple radiating love, resilience, and gratitude towards their adopted home, Ireland. Motivated by the support they received from Irish authorities and citizens, they have found a sense of belonging and appreciation that has allowed them to establish a new life filled with hope and promise. Mohammad's heartfelt words reflect the deep gratitude he feels towards the Irish people: "Finally, this would not be possible if it wasn't for the support of Irish authorities and citizens who helped me resettle and establish a new life. I thank you for having Ireland as a new home." Their story serves as a testament to the resilience of the human spirit and the power of compassion and understanding. Mohammad and Arsoula continue to inspire others while embracing the opportunities that Ireland has to offer, nurturing their dreams, and building a future filled with love and fulfilment.